First Quarter sales dropped slightly for the first time since 2012 from 391 last year to 358 this year. After the Lost Decade that began in 2009, first Quarter sales, and sales in general, have never recovered to the high point reached in 2006.
In 2006 first Quarter sales reached 543 properties and there were routinely around 3000 total sales per year in the mid-2000's.
Last year 2258 properties sold in Summit County, 24 percent fewer than in 2006.
Prices, however, have been on a rampage increasing by over 15 percent last year alone, the largest one year increase since 2007. Lack of inventory has exacerbated the inflated prices.
Each new listing hits the market with perhaps 400 automatic notifications going out to buyers who have been waiting for new inventory. This has made multiple offers routine with outrageous terms like escalator clauses, huge down payments and waived due diligence.
Understandably, new buyers feel whipsawed by the quick action required and the prices and terms they need to match on the first couple of tries. Then they either decide this market is too crazy for them or they get aggressive.
More of them are choosing the first option and the number standing in line is diminishing. That is another reason sales have been flat for three years.
This is exactly the kind of market we saw in 2005, 2006 and 2007. Buyer frenzy for scarce inventory drove double digit price increases. Then came the Bush Depression of 2009 and by 2011 the average price had dropped by 20 percent and sales by more than half.
That was the first time ever that prices had declined by more than 5 percent and for more than one year in Summit County. There had been a couple of dislocations like 9/11 and the Dot.com bust that had caused soft prices for a year, but prices were essentially flat.
That has changed now. Although our society seems to have adjusted to chronic chaos and uncertainty, the overwhelming confidence that characterized the 25 year period from 1984 to 2009 is certainly gone.
Summit County is a luxury second home market and as such depends almost entirely on consumer confidence and growing disposable income. Economic uncertainty causes consumers to think twice about luxury purchases.
Because there are twice as many Americans as 50 years ago, there are also twice as many with the resources and confidence to buy second homes. But many are Boomers who have done so already. Our buyer market is now largely made up of those wishing to move up from the entry level properties and a lower number of affluent youngsters than during the Boomer years.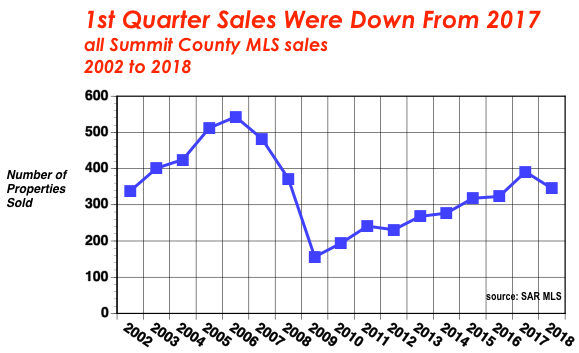 Those who have their place in the mountains are generally going to keep them now that their retirement plan is in place. So the immediate future is probably characterized by continued low inventory and fierce competition for it until the next economic cycle begins. That could be tomorrow or ten years from now.
Don't get caught up in the frenzy just because everyone else is.
Buyers and sellers in this market should act based on their own desire to be here in the mountains, to enjoy the life here.
Get informed, but don't try to outguess or overthink this.
Do what makes sense to satisfy your own needs and dreams then enjoy the results.