After a dismal performance in February, March brought a strong rebound with an above average number of sales and a record high average price for the 1st Quarter.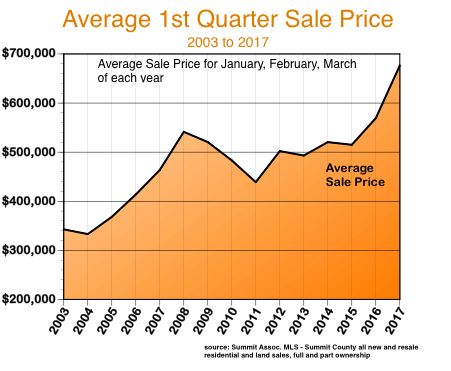 Through March, 382 properties had closed, still a long way from the 543 which sold to date in 2006, but the highest number since 2008.
The average sale price for all properties sold through the Summit Association of Realtors MLS blasted through last year's 1st Quarter record and ended at $672,900.
The 1st Quarter average sale price jumped by over 18 percent from the 1st Quarter of 2016, the largest increase since the 2007 to 2008 increase of about 17 percent.
It is likely that prices will not finish the year at this level, but they will probably be close.   And a little slower increase would be a good thing.  Overheated prices are not healthy as we have seen in the past.
As we all remember, things went south for four years after the euphoria of 2008 but prices have finally and fully recovered.
It would seem that the laws of supply and demand have finally caught up with our market.   For the past three years, the inventory has steadily declined to its present historically low number of properties for sale.  Despite this lack of supply, prices had risen at a relatively sedate five to eight percent per year until now.
Rising interest rates will have an effect on this market, but mostly in the lower end where buyers are more likely to need a mortgage.  Undoubtedly some have been priced out by the recent increased borrowing cost.  In addition the lack of supply and resulting price inflation is still centered squarely on the most affordable part of the market.
Buyers who want in before the market gets farther away from them need to act as soon as a new property appears on the market.  This means picking a broker and getting on
an automatic search and notification program to even have a chance to see new listings before they go under contract.  Zillow won't cut it any more.  Too slow.
A pre-qualification letter is crucial as your competition will probably present one with their offer.  Only the most committed, prepared and active buyers are having success these days.
You would think that these conditions would bring more for sale by owner and pocket listing sales, but the number of properties offered on for sale by owner web sites and that mysteriously appear in the MLS as sold before listed has not risen much.  Almost all transactions in Summit County still involve a Realtor.
Secret sales are not in anyone's best interest.  You never know if the home was sold to a relative, if the owner financed it, there are no pictures in the MLS, you don't know what the offering price or maybe even the real sale price was.  Full disclosure makes for honest markets.
Smart sellers know that more buyers exposed to the property means a better chance of multiple offers and the best possible sale price.
And smart sellers are getting their properties on the market as soon a possible while these conditions last.
These days, you really never know what's going to happen next.  Now more than ever the next Depression may be only a snarky tweet away.