Land sales continue to be the weakest part of Summit County's real estate market.  At the end of March there were 254 lots for sale, 24 were under contract and 16 had closed since January 1.
Prices are the lowest in a decade and many premium lots are offered and selling for tens of thousands less than when they were first sold. Land sales are now averaging about 90% of list price, up from 85% last year, so the market is improving slightly in some ways.
But recent developments may signal an end to the several year long land sales drought.  Lenders have actually been soliciting for construction borrowers.  I've received calls from lenders actually asking if I know anyone who would like to apply for construction loans, including spec builders.

If this trend continues and spec building loans become more available, land will begin to sell again.  Contractors were about half of the market for land in the years when land was the hottest part of Summit County real estate.  Every builder had two or three lots in reserve as they built homes with no buyer already in place.
Now lenders (OK, two) are calling with offers to finance vacant land purchases. Offers of 50% loan to value rolling to construction loans with 20% builder equity and 60% loan to value on the finished product have been made.
We'll see how many of these loans are actually made, but if available, the remaining vacant land in Summit County will become a lot more saleable and expensive.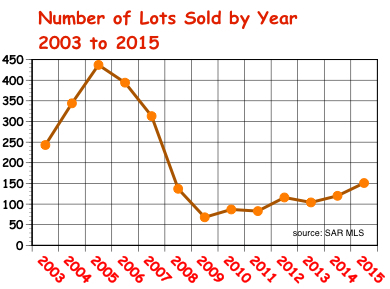 And as regular readers of this newsletter already know, there is no new vacant land to be had in Summit County.  What we have now is all there is and most of that has already been built upon.
It might be a good time to take another look at land as a mid-term (3 to 5 year) investment.